TK850, 3000 ANSI lum, 3840x2160, 16:9, DLP, 245 W, RMS 2x 5W, HDMI 2.0b, USB, 3.5mm, S/PDIF, RS-232, IR, 380x127x263 mm
Availability:
Please Call Us
Bring the Stadium in Your Home
The TK850 brings authentic HDR viewing into your brightly lit living room. Admire a huge 100"+ 4K UHD picture with HDR-PRO technology. Custom Sports Audio and Image modes make all the action more immersive. The 8.3 million pixel image lets you watch from home but feel like you're in the stadium. All this in a stylish, compact design making it the center of the action. Let the TK850 transform your living room into the perfect venue for you and your friends!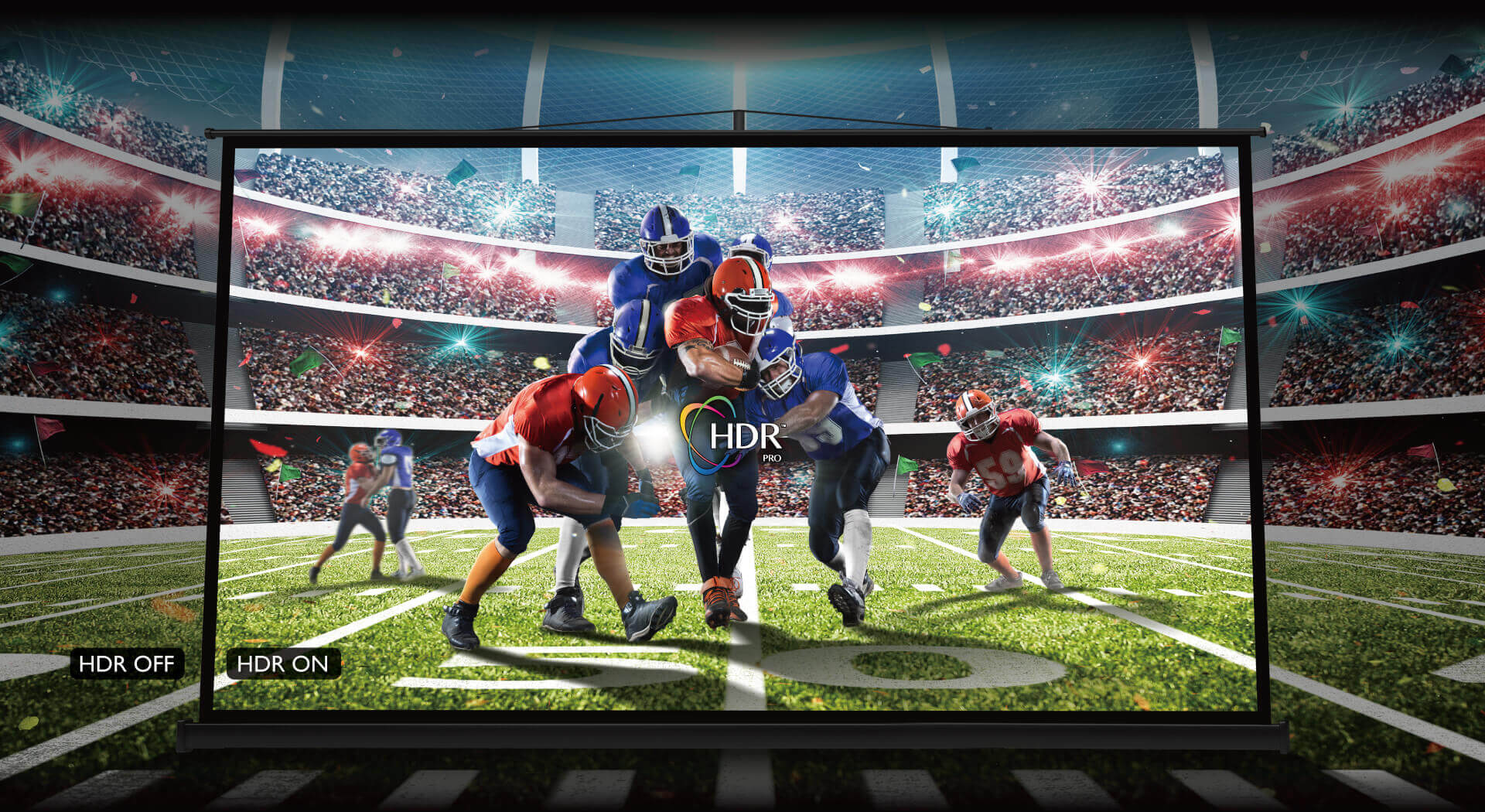 Hyper-Realistic HDR-PRO™ in 4K
The exclusive BenQ HDR-PRO technology enhances the 4K HDR viewing experience with better contrast range and more details. The TK850 is supercharged with HDR10 & HLG (Hybrid Log-Gamma) support for unparalleled enjoyment.
* HLG is a high dynamic range (HDR) standard that was jointly developed by the BBC and NHK. It is supported by video services such as the BBC iPlayer, DirecTV, Freeview Play, and YouTube.
Enjoy Your Content in 4K HDR

True 4K UHD, with 3840 x 2160 resolution and 8.3 million pixels, minimizes blurred images for a better viewing experience.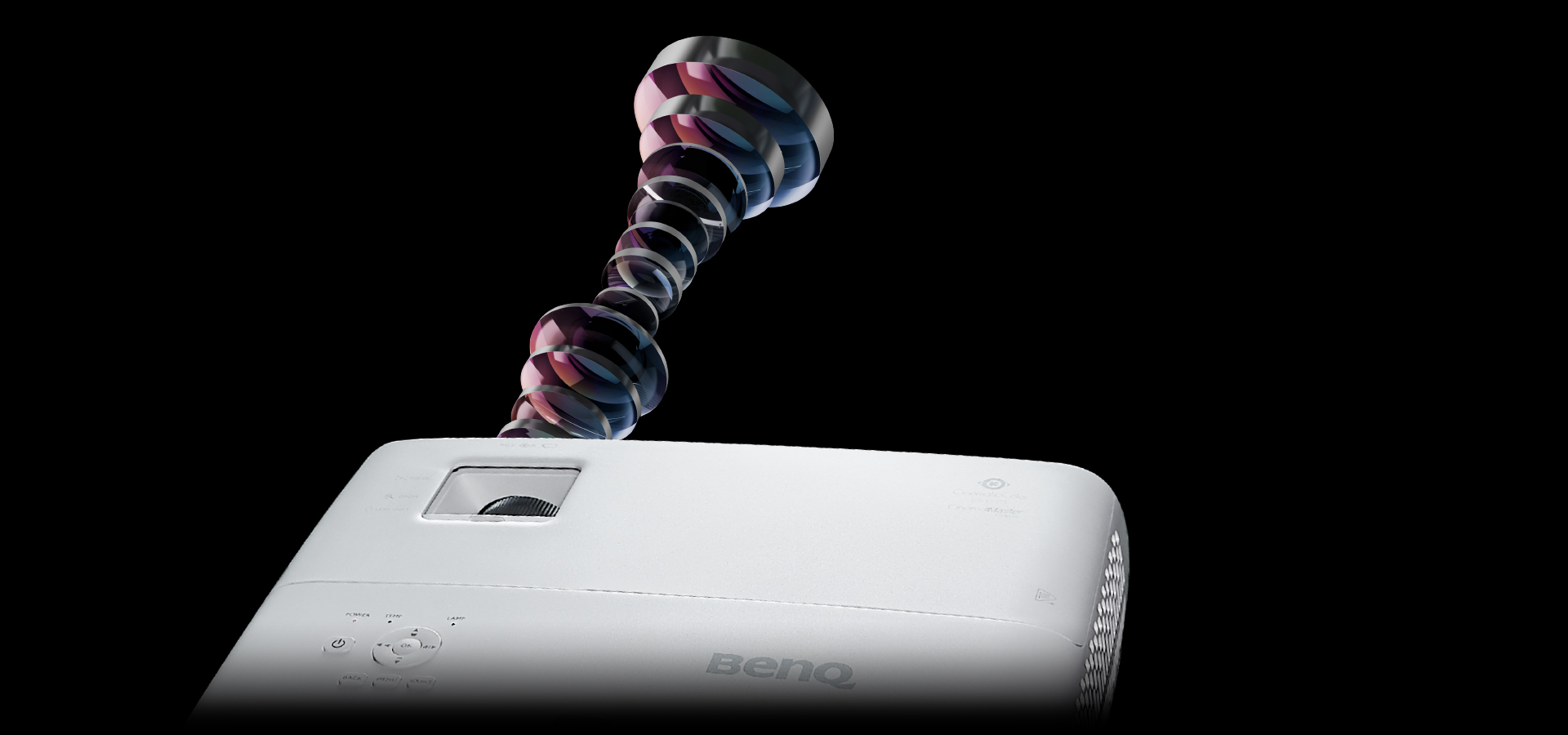 Premium 4K Glass Lens Architecture
The TK850's 4K optical system uses the highest-grade glass for superior realistic image quality. The precision, 10-element, 8-group lens array allows better light penetration for long-lasting 4K intensity.
Enjoy enhanced video quality with realistic skin tones, balanced outdoor blues and greens, and warm woodgrains for indoor sports action. Sports Mode also boosts the thrill of victory, accentuating the announcer's commentary and the roar of the crowd.
Eliminate laggy images, jittery playback, and blurry shadows. Interpolated frames are generated and displayed between individual frames. The TK850 inserts 36 interpolated frames per minute for seamless, vivid 60-frames-per-second videos.
Indulge in Immersive Sound
The powerful 10-watt chambered speaker of the TK850 delivers enhanced sound quality for elevated enjoyment. The TK850 projector is perfect for following sports, listening to concerts, gaming, and movie-watching.
The TK850 turns your living room into a venue in seconds with diverse mounting and placement options. Enjoy authentic HDR scenes with vivid images anywhere, even in your bright living room. The TK850 perfectly balances 98% Rec.709 color accuracy and 3000 ANSI Lumens brightness, making home your space where you can relax and enjoy your favorite show or sport.
Easy Upgrade to 4K
The TK850 offers a 10% vertical lens shift, making it adaptable to any room. It can use the same ceiling mount and screen as many BenQ 1080p projectors with similar throw ratios, 1.13 - 1.47 (100" @ 2,5 m), so it's easy to upgrade to the 4K TK850 without screen size and throw distance calculations.*
*Easy 4K upgrade for BenQ's W1070, W1090, W1110, and W2000.
Perfect Alignment
Keystone correction lets you project perfectly aligned images from many places in a room. The vertical keystone function adjusts the image for a professionally squared image, countering the trapezoid effect when the projector must be placed off-center.
Zoom with Focus
The TK850 maintains image integrity with zoom. By maintaining consistent zoom ratio, images keep visually perfect focus from corner to corner.
USB Type-A 3.0 Port
USB 3.0 can transfer data up to 5Gbit/s that is about 10 times faster than the USB 2.0 standard.
USB Media Reader:
Share without Cables
The USB reader lets users easily project video, audio, and picture content from removable disks without cables for high speed transmission.
Easy Firmware Upgrades
Via USB it is very easy to update to the latest firmware, providing both simple operation and effortless maintenance.
More Information

| | |
| --- | --- |
| Brightness (lumens) | 3000 |
| Resolution | 4K |
| Aspect Ratio | 16:9 |
| Technology | DLP |
| Throw Ratio | 1.13 - 1.47:1 |
| Contrast Ratio | 30.000:1 |
| Light Source | Lamp |
| Light-source life | Normal 4,000 hours Economic 10,000 hours SmartEco 15,000 hours |
| Lens Shift | Vertical +10% |
| Keystone | (Auto) Vertical ± 30 degrees |
| Image Size | 30"~300" |
| Connectivity | HDMI in, USB, USB (PC-less presentation), USB (power), Audio out (3.5mm jack), Screen trigger, RS232 |
| 3D | Yes |
| Features | PC-less presentation, Lens shift |
| Speaker | 2x 5W |
| Dimensions | 380 x 127 x 263 mm |
| Weight (kg) | 4.2000 |
| Noise Level | 30/28dBA (Silence mode) |
| EAN | 4718755079122 |